Cancer Prevention Coach
RECORDED OR LIVE ONLINE COURSE
Learn the Essentials for Cancer Prevention, the Root Cause of Cancer in each Region of the Body and Pauls 15 Step Emotional Healing Process.
Why should I take this training?
About 1:2 people will develop cancer in their lifetime. Cancer Prevention Coaches are needed now more than ever.

The knowledge and wisdom gained in this course is of critical value to all health practitioners and individuals today. That's why Nurses, Oncologists, Naturopaths, Medical Doctors, Personal Trainers, Holistic Health Coaches, and Stay-at-Home Mothers have taken this course.
Learn valuable knowledge and skills:
1. The Root Cause of Cancer - what cancer is and why it can grow in our body.
2. What's needed to live a cancer free life.
3. The root cause of cancer in different parts of the body.
4. How to become a successful and truly helpful coach.
5. The 15 Step Real-Self Emotional Healing Process.
6. How be of help to friends and family with cancer
7. Marketing with integrity for building a thriving business.

With this certification you will be able to teach people in a single session, a deep understanding of the cause of cancer, providing the knowledge & awareness needed for the prevention of cancer. You will also be able to guide others effectively through the growth process of healing, helping free them from life or relationship challenges, and release and process stored emotions.
2 Options to take this Course
Join the next LIVE Class (February 19-24):
Take this training live and in group format. The next Class begins

February 19th. The time zone for all dates is CST (Central Standard Time)



STRUCTURE:

Day 1: Feb 19th 2023

(Introduction Day) 2-4pm CST

Day 2: Feb 20th 2023

2-5pm CST

Day 3: Feb 21st 2023

2-5pm CST

Day 4: Feb 22nd 2023

2-5pm CST

Day 5: Feb 23rd 2023

2-5pm CST

Day 6: Feb 24th 2023

2-5pm CST

Write the exam and hand in by March 12thDay 7: Mar 26th

(Exam Review Day)
Empty space, drag to resize
JOIN THE FEBRUARY 19TH CLASS
Empty space, drag to resize
Take at your own time - watch Recordings:
This Course is available entirely recorded. Once you enroll you will have access to all videos and handouts. (see course overview below)

You can complete and submit your exam on your own time. Paul will work with each student individually as part of their exam review.

Taking this course recorded is a great option for you if you have a busy schedule or want to prepare for the next Cancer Reversal Coach Training.
Empty space, drag to resize
BEGIN LEARNING
IMMEDIATELY
Learn Paul's 'Real-Self Emotional Healing' Process
At the core of this course is Paul's 15 Step 'Real-Self Emotional Healing' Process, which he has created from over 10 years of helping clients prevent and reverse cancer.

It has been called 'brilliant' and 'life-changing' by many students and it has helped them come to closure, acceptance and peace with regards to their own life challenge(s). It has helped them focus on creating a more fulfilling and purposeful life. Sometimes Students have reversed their cancer through the application of this process and all they learned in this course.

You will learn how to use this process with their clients to help them release emotions that would lead to cancer if left unprocessed.
SIGN UP NOW AND START LEARNING IMMEDIATELY
Two Certifications in one Training
Empty space, drag to resize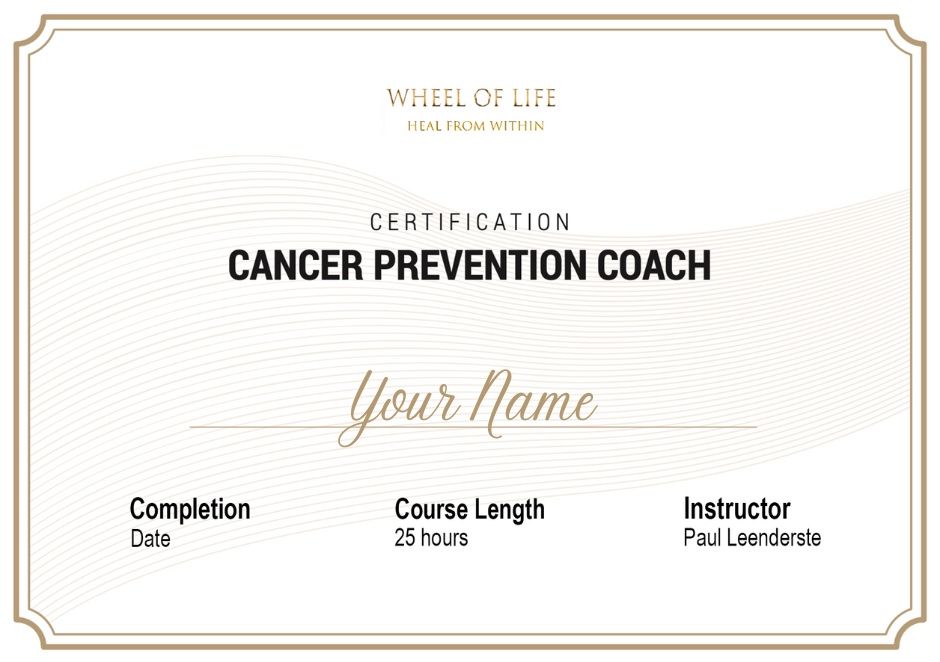 Empty space, drag to resize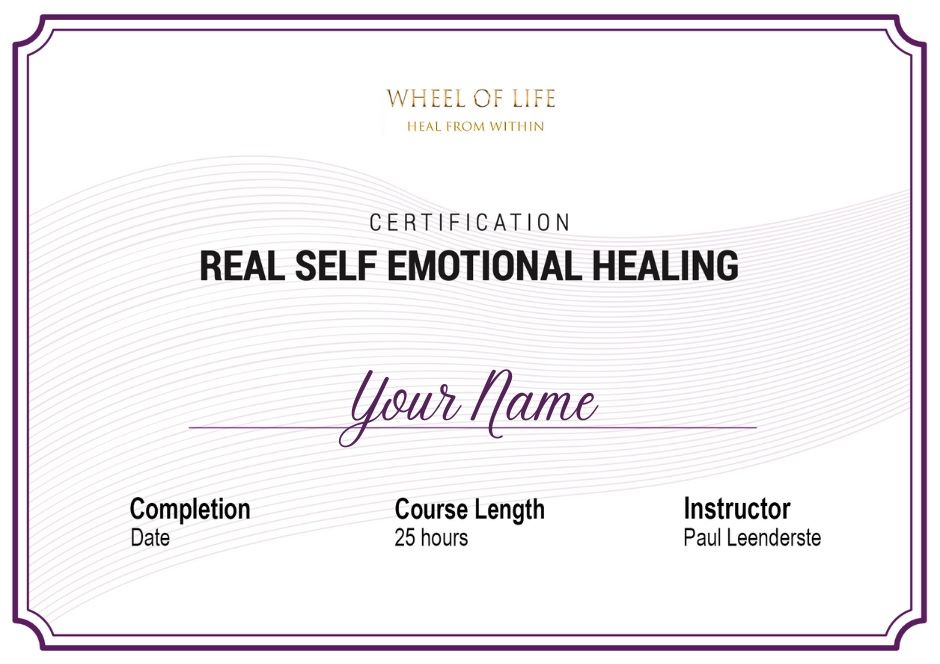 Complete your own healing process, and work 1:1 with Paul during the exam review

Once you have completed all videos, you can write the exam. The exam is a mixture of multiple-choice and written questions which include completing your own Real-Self Emotional Healing Process. Paul reviews all exams individually and gives 1:1 guidance to each student to help them deepen their knowledge and embody the tools taught in the course.

Become a Certified Cancer Prevention Coach & Real-Self Emotional Healing Guide

Paul takes the courses very seriously. Only once your exam has been personally reviewed you will receive your Certifications. But don't stress about this; Paul will support you 1:1 to ensure you understand the content. Then you will receive your two Certifications: 'Cancer Prevention Coach' and 'Real Self Emotional Healing Guide'.
TESTIMONIALS
VIDEO TESTIMONIALS
Cancer Prevention Coach
Canadian Frontline Nurses & Trauma Healing Guide
SARAH CHOUJOUNIAN
Cancer Prevention Coach
Hypnosis Therapist and Health Coach
RACHEL BRAGG
Reversed her Breast Lumps
Personal Trainer and Health Coach

RUTH MEZA
Reversed her Stage 4 Cancer
Teenage Empowerment and Emotional Healing Mentor
ANNA DE FERRARI
WRITTEN TESTIMONIALS
As a western-trained physician, I have observed both professionally and personally the need for approaching physical illness and disease through a more holistic and empowered lens.

I was telling a close friend today how much I'm enjoying this course and I don't want it to end! thank you again - so much appreciation.
rachel maurice, MD
"I am absolutely loving the course and keeping up by watching at night after my 9-5!

Your case history stories really drive everything home for me.

Your course was amazing and extremely beneficial. I will be signing up for Cancer Reversal Coach next."

JOHN KRISTJANSON
Paul helped revolutionize my perspective on health. He is a wealth of knowledge and an amazing person to be around.
He's one of my biggest inspirations in the health field and in life in general.


I'm really excited to integrate his methods into my work and I know that it will make a big impact in many lives.
JOSEPH MIKRUT, BOARD
CERTIFIED NATUROPATH
Get to know us
Your Instructor
Learn from the Pioneer of the Root Cause of Cancer
Paul Leendertse
Author, Teacher, Coach, Pioneer
Paul Leendertse is the Pioneer of the Root Cause of Cancer and Author of: "The Root Cause of Cancer". Through over 10 years of experience working with clients in intimate settings who were facing severe health challenges (often stage 3 and 4 cancer), and investigating their lives, childhoods and habits, Paul discovered the root cause of cancer. The Root Cause is the main Factor that has to be resolved for full Healing to occur.


For years Paul's focus has been 1:1 coaching where he often gets to the root cause of his clients cancer in one session and begins resolving it with them. Many times clients experience significant improvement of symptoms in their first session. Paul also offers guidance through the entire self-healing process.
Now Paul's primary focus is to bring the knowledge of the Root Cause of Cancer to the world via his courses.To learn Paul's methods of Cancer Prevention & Reversal, and his 15-step Real Self Emotional Healing Process, sign up for Cancer Prevention Coach Online Training.
Become a trusted guide for Cancer Prevention & Emotional Healing

LIVE
BEGIN BEGINS FEBRUARY 19TH
RECORDED
BEGIN LEARNING IMMEDIATELY
Frequently asked questions
What can you offer that I cannot get at other online schools?
With us you will have the opportunity to learn from over 10 years of research into the lives of individuals with cancer. You will be learning from Paul Leendertse directly, the discoverer of the Root Cause of Cancer who has spend over 10 years living with individuals with cancer and supporting them through their healing.

Do I need previous experience ?
Although our courses are designed for professionals, no previous experience is required. We have had a variety of people from all walks of life take our training:

-Stay at home mom's who want to raise healthy, cancer free children
-Individuals who want to understand and support their friends or family members, diagnosed with cancer
-Professionals of any kind such as physio therapists, Medical Doctors, Health Coaches etc

What is most important is that you are passionate about this knowledge.


Can I start with Cancer Reversal Coach?
Because for helping Clients reverse Cancer a variety of skills, that take some time to understand, practice and develop, are required, Cancer Prevention Coach is a pre-requisite for Cancer Reversal Coach.

The course material is designed in an order to prepare you step by step for becoming skilled in holding space for and supporting and guiding your clients through their self-healing process.
When can I start studying ?

You may enroll any day of the year. Level 1 Training Cancer Prevention Coach is available as an entirely pre-recorded course. Be online and start studying within a matter of seconds after enrolling.



I am a Medical Doctor or other Medical Professional, will I benefit from this Course?
Can I heal someone when I take this course?

The power to heal is within each individual. In our courses you will be learning how to help your client access that power and guide them effectively to make the changes required for their healing. The only long-term healing is self-healing.

If I have cancer, will I benefit from taking this course?
Since the launching of this course a variety of individuals with cancer enrolled in this training. Many of them reversed their cancer after taking the course, some times with additional support through sessions with Paul.
See Testimonials here
I have already taken a large amount of courses and am a highly skilled professional, will I still benefit?
This knowledge is likely not like anything you learned anywhere else. You already existing skillset will be of great value and will likely help you in understanding and applying what you are learning in this course to a greater depth.